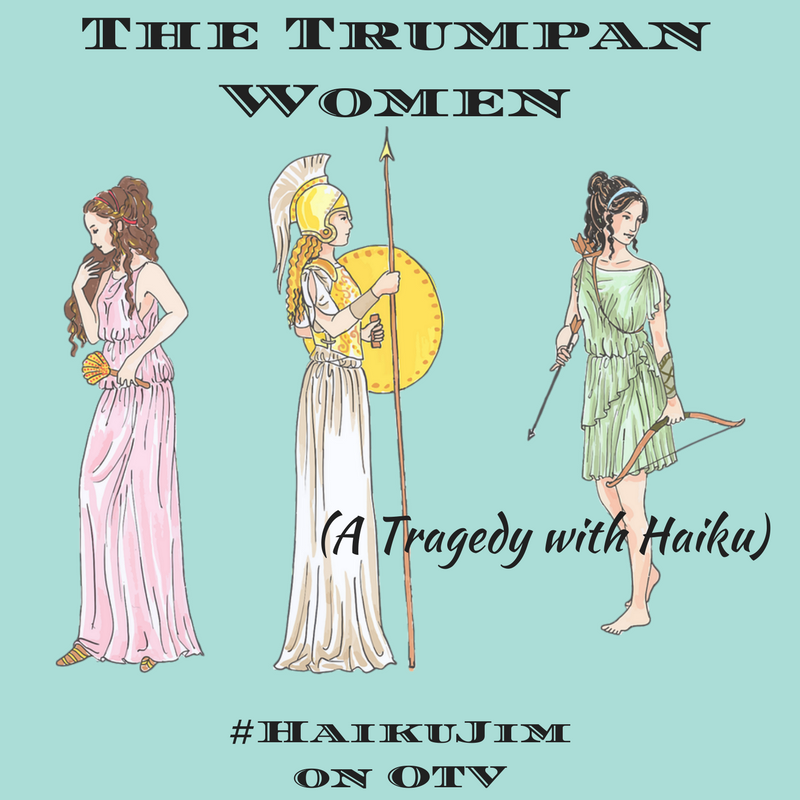 The Trumpan™ Women
[A Tragedy with Haiku]
Chorus: Like smoke blown to heaven on the wings of the wind, our country, our conquered country, perishes. Its palaces are overrun by the fierce flames and the murderous spear.
Euripides The Trojan Women
Orange has almost no perfect rhymes. The only word in the 20-volume historical Oxford English Dictionary that rhymes with orange is sporange, a very rare alternative form of sporangium (a botanical term for a part of a fern or similar plant). 
Trumpan™ Chorus: To everything there is a season
And there must surely be a reason
Nothing rhymes with orange — except sporange.
Melania™:
What was I thinking?
I could have married the fat
Brazilian playboy.
Ivanka™:
My shoes slip on and
Off as easily as my
New religious faith.
Tiffany™:
I am Trump Bunch Jan —
Lost in Ivanka's shadow.
I hate her. A lot.
Trumpan™ Chorus: With acid-angry pock-marked skin
Nothing looks good — not even the fruit
In color ideal for a prison jumpsuit.
Melania™:
I gave up more than
I thought when I married him.
Missing my tear ducts.
Ivanka™:
You can wear my shoes
Everywhere and anytime!
Unless you're Muslim.
Tiffany™:
In every pic
I'm always off to one side.
Like literally.
Trumpan™ Chorus: He's just like that kid in fifth grade
Who everybody was afraid
Would grow up to be an arsonist-serial-killer.
Melania™:
I had the cheekbones.
He had the money. But now
All I want is out.
Ivanka™:
My new line reflects
The American rainbow!
P.S. That means "white."
Tiffany™:
Alec Baldwin will play you
In the film made from my book.
Happy Father's Day!
Trumpan™ Chorus: There must surely be a reason
If for everything there is a season
Nothing rhymes with orange — except sporange.
© James W. Gaynor
Buy Jane Austen's Pride and Prejudice in 61 Haikus (1,037 Syllables) here!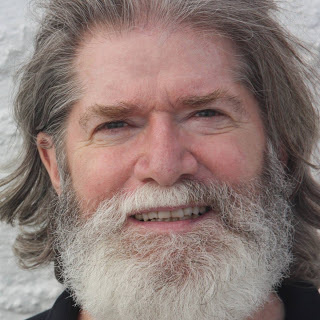 James W. Gaynor, author of Everything Becomes a Poem (Nemeton Press), is a poet, artist, editor, and writer. A graduate of Kenyon College, he lived for years in Paris, where he taught a course on Emily Dickinson at the University of Paris, studied the development of the psychological novel in 17th century France, and worked as a translator.
After returning to New York, Gaynor worked as an editor at Grosset & Dunlap, Cuisine magazine, Scriptwriter News and Forbes Publications. His articles, book reviews, poems and essays have appeared in The New York Observer, OTVmagazine.com, The Gay and Lesbian Review Worldwide, and Peeking Cat Poetry Magazine.
As #HaikuJim, Gaynor publishes a daily haiku drawn from current newspaper headlines and is the creator of Can You Haiku? — a corporate communications workshop based on using 17th-Century Japanese poetry techniques to improve effective use of today's digital platforms. Gaynor recently retired as the Global Verbal Identity Leader for Ernst & Young LLP.
A silver medalist in the 1994 Gay Games (Racewalking), Gaynor's found-object sculpture has been exhibited internationally. He is a member of the Advisory Board of New York's The Creative Center at University Settlement, a nonprofit organization dedicated to bringing the creative arts to people with cancer and chronic illnesses. (http://www.thecreativecenter.org/tcc/)
Gaynor lives in New York City with his canine companion, Emily Dickinson Gaynor, and the cat who oversees their entwined lives, Gerard Manley Hopkins Gaynor.