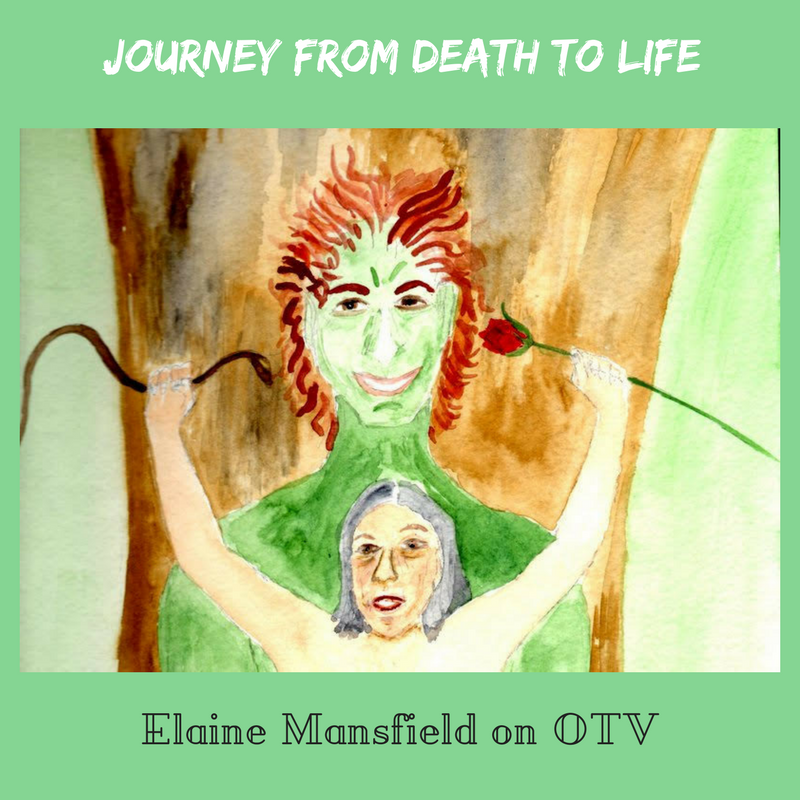 By Elaine Mansfield
I walked the trails on my land, stunned by the contrast between fields of blooming purple lupines and my numb despair. My husband Vic had died the week before. We knew death was coming, but how can anyone imagine it?
Here, breathing, struggling, loving one minute. Then gone, silenced, limp and gray. I was left with a longing for what couldn't be.
I was in danger of sinking into despair. Darkness was so close. I didn't belong in the world anymore, although I wasn't suicidal. I just felt dead. I'd helped my husband, my lover, my partner, my best friend survive cancer for two years and helped him cross to the other side. He was gone. Where was I?
Lost.
I spent that week walking, one foot in the world of death and one in life. Death felt closer. The only comfort was walking. Going nowhere.
At night, I hardly slept. How could I survive this? Where could I hide? I had friends, sons, and a therapist, but in those dark hours, I was alone with sorrow. I only wanted one thing. He was dead.
Ten days later, a dream emerged during fitful sleep, my first dream since Vic's death:
I am in a wooden house in a small white-walled room with a single bed where I will sleep. I walk up a wide staircase to a landing. Through an open door, I see a giant naked man sitting in a porcelain claw-foot bathtub. His bronze hair looks like foliage. Water droplets cover his pale jade body. "What's with your skin?" I ask. "It lasts one year," he answers. I know that this is the Green Man, and I will live in his house for a year.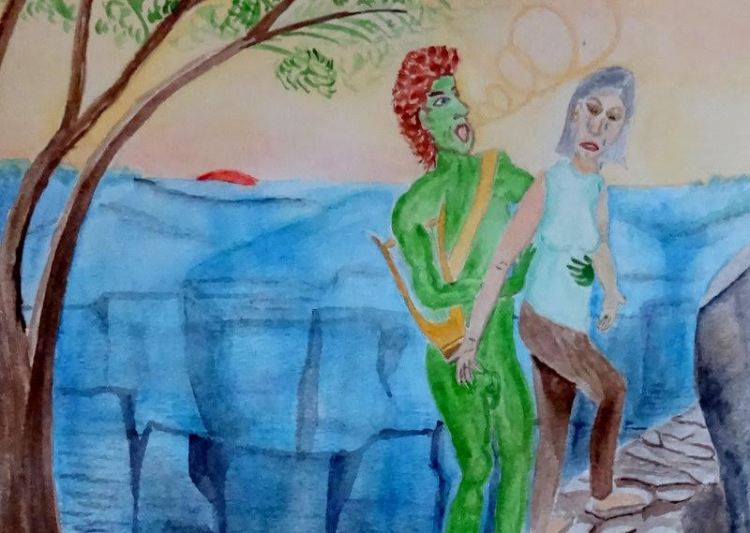 I didn't know what the dream meant, but was relieved to get an inner response to my cries for help. A green-skinned, bronze-haired giant was offering a home and protection. The dream even had a sense of humor. What was with his skin?
I knew the Green Man as a face on a garden gate, but not much more. I needed to know who he was. A close friend loaned me a book by William Anderson called Green Man: The Archetype of our Oneness with the Earth. The book was filled with pictures and history.
Hardly able to think or read, without much appetite for life, I devoured images of the Green Man and learned he was a Northern European pre-Christian earth god of life, death, and rebirth. He survived because artisans carved and painted his image in decorative vegetation of medieval Christian churches. These sculptors quietly saved the old pagan image in magnificent structures like Chartres Cathedral in France and in famous churches all over Northern Europe. (Pagan, by the way, is a word we use for someone else's religion.)
The Green Man's face emerged from swirls of leaves on cornices and gates. Vines or branches grew out of his mouth or curled around his ears. Sometimes he was sculpted or painted with the Earth Mother or the Virgin Mary.
What did it mean that I would live in the house of this mythological figure for a year? I now knew the Green Man was a god of death and rebirth—the edge on which I stood.
My unconscious dream self, my inner wise woman, had sent help. My Soul offered a path into the Unknown, although there were no maps to tell me where I was going. Still, I felt a sliver of hope. Maybe I could lean against the Green Man.
I kept walking the trails in my fields and woods. When I couldn't handle the heartache, which was many times a day, I went outside no matter what the weather or time. I walked in moonlight and in rain, in heat and snow. My yellow Lab was always willing to come along.
The first summer, I watched lupines die and seed while goldenrod arrived. I watched butterflies laying eggs and mushrooms bursting with spores. I watched the moon go from a sliver to full and then back to darkness before repeating itself. I photographed life as it budded, gave birth, and died and felt how commonplace my sorrow was and how ordinary death. Just as ordinary as those other miracles, new love and childbirth.
As I walked, I felt Vic's presence everywhere.
He wasn't an angel hovering around. Or maybe he was, but that's not what I experienced. I felt him as a presence on our land. The trails he'd cut into the forest and the wild flowers he'd planted with me. Everywhere I looked, I felt his love.
Vic was a man of compliments and affirmations, but the biggest one he gave me was, "You taught me how to love." He did the same for me. I realized I still felt loved.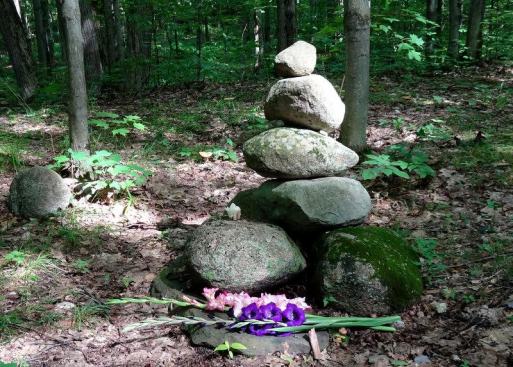 A few months after the first Green Man dream, my sons and I buried Vic's ashes in the forest and built a stone cairn for him. A few days later, I dreamed of a man in a green shirt laying a trail of flat stones across a swamp, so I could cross the muddy water and muck. I woke up knowing I was on the right path, taking the only journey I could take to reach a new life.
A few months later, when I had the courage to clean out Vic's desk, I found old glasses and clippers with bits of his fingernails attached. In the back of the last drawer, I found a packet of photos I'd taken of him ten or more years before. He'd been tired of posing for promotional shots for his new book, so he ducked under a maple tree, stuck his face through the red leaves, and grinned. I snapped the last picture on the roll and forgot about it.
Finding the photo that night, six months after his death, I understood.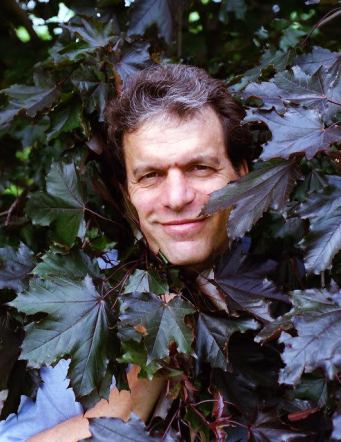 Vic was my Green Man. When we first met, he'd taught me to wade in streams and walk up hillsides to catch a sunset. On our land, he saw beauty when I saw piles of junk and a falling down house. We'd cleaned up junk cars, mountains of old tires, and dumps left in gullies by previous owners. We'd helped Nature heal the land. Now Nature was healing me.
The Green Man kept walking with me on this journey I had to take alone. I trusted him to lead me across the swamp and back to life. As that new life emerged, I felt guided and held.
Nine years later, I still walk my trails with the Green Man.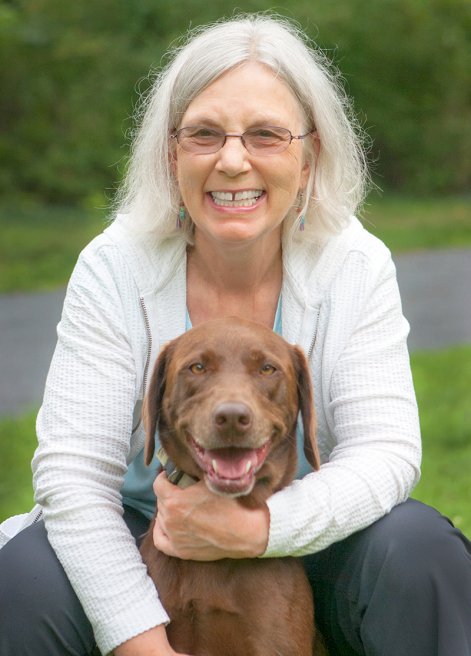 Elaine Mansfield's book Leaning into Love: A Spiritual Journey through Grief won the 2015 Gold Medal IPPY (Independent Publisher Book Award) for Aging, Death, and Dying. Her TEDx talk, Good Grief! What I Learned from Loss has over 90,000 viewers. Elaine writes about grief, relationship, family, and the inner life. She facilitates bereavement workshops, gives presentations, and volunteers at Hospicare in Ithaca, NY. She's been a student of nature, philosophy, Jungian psychology, mythology, and meditation for forty years and writes a blog about these topics. Her recent essay, "Wild Nights: Grief Dreams, Mythology, and the Inner Marriage," won first place in a competition sponsored by Jung in the Heartland. You can read more about Elaine and her work at her website.